What is Resilient Course Design?
What do we actually mean when we talk about resilient courses? Thinking about some of the more common definitions of resilient, we might use the term simply to refer to a course that can "rebound" from disruption; one that is either "not susceptible to" change or is specifically designed to be "able to recover from" disruptions. But we might also aim a bit higher, drawing on definitions of resilient that incorporate the spark of teaching and learning to work toward courses that are "buoyant, "irrepressible," "adaptable," and "robust."
For college faculty, resilient course design is an approach to structuring courses in a way that seeks to minimize the effects of external disruption on student learning. One of the lessons learned in the last year and a half is that disruption "happens": it's unavoidable and that it can take many forms beyond a pandemic, including inclement weather, illness/injury, and travel. 
Educational research indicates that a resilient course design is one that is mode-agnostic in nature and that capitalizes on the richness of the on-campus, synchronous format, along with the flexibility of the online, asynchronous format. Resilient design also stresses the importance of pedagogy that focuses on students' psychological needs to feel competent, to be heard, and to be autonomous, as this "leads to desired academic outcomes, including enhanced academic achievement and long-term retention on content and skills" (Guay et al 2008). With this in mind, we can prepare for the inevitable by introducing such principles in our existing course delivery.
mode_agnostic.png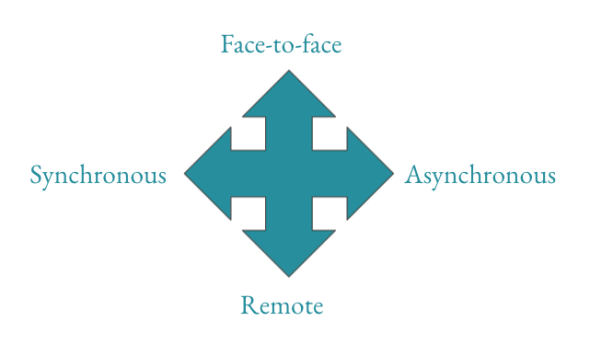 needs-centered.png